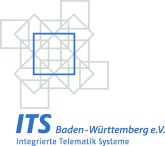 ITS Baden-Württemberg e.V. - Integrated Telematic Systems (ITS BW)
Industriestrasse 3 (im Pavillon)
70565 Stuttgart
Contact
Prof. Dr. Günter Sabow
Phone: +49 711 781-14
Fax: +49 711 781-15
g.sabow@ktmc.de
Description
The Competence Center ITS Baden-Württemberg e.V. seeks the wider distribution and increased acceptance of telematic and customer relationship technologies as well as accompanying services.
Professional users like public transport, police and fire brigades form the initial target group.
While responding to the already high mobility in the Stuttgart region, the work in the Filderstadt Center will open the door to the use of telematic technology in everyday life.