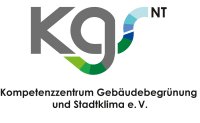 Competence Center for Green Building and Urban Climate e.V.
c/o HfWU Nuertingen-Geislingen University
Schelmenwasen 4
72622 Nuertingen
Germany
http://www.kgs-nt.de/en-gb/home
Contact
Ms Prof. Dr. Nicole Pfoser
Managing Director
Cell: +49 175 4007894

Mr. Ralf Walker
Managing Director
Phone: +49 7022 6003-360

Ms Claudia Scharr
Office
Phone: +49 7022 7896534
Fax: +49 7022 7896535
info@kgs-nt.de
Description
Climate Change, increasing levels of soil sealing and declining biodiversity demand a more consistant greening of urban spaces.
Considerable work is still required to identify performance potential and strengthen acceptance and identification through targeted audience research, so that many ecosystem services provided by greenspaces on, at and around buildings can be used in an efficient and synergetic manner.
The Competence Center for Green Building and Urban Climate was founded in July 2018. Topics relating to building greening and urban climate are taken up and advanced in research and transfer projects, lectures and on a digital platform by an expanding network of universities, associations, companies, local administrations and municipalities working in collaboration.